Oh, sure I have flesh-colored hair, but I'm happy.
Update: I've sold my racing stuff and retired from the sport. I miss my racing friends but still keep in contact, usually on Facebook. Look me up.
At 75 years-old, I don't expect to be the next greatest driver. Even though I was Season Champion at Spoon River Speedway for two years in a row and two at Shimek Speedway, I'm not planning on moving up to NASCAR any time soon. Since I was a little kid I've wanted to race on dirt ovals. However, being a workaholic my whole life didn't leave me the opportunity until recently.
I majored in Business Management and Marketing at Bradley University in Peoria, IL. I founded and ran Big Towing Co., Inc. in Peoria for 22 years. It was the oldest towing company in Peoria. I sold that and founded and ran Phootnote Publishing Co., Inc. for 10 years. It was a 48 page tabloid-sized business management based newspaper that was mailed free to every towing company in every state every month. The paper was 100 percent advertiser supported. Upon selling that I retired to start enjoying life. My wife and I took up scuba diving. I became a Rescue Diver and Divemaster, one step below Instructor. We've traveled to many islands in the Caribbean. Upon turning 58 I decided it was finally time to start racing.
Not being the next NASCAR star does not mean I don't get noticed. I always pit near the spot where the karts enter the track. Everyone goes by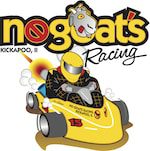 my pit for every race. All of my equipment is new and top of the line. My "No Goats" logo is visible on everything. Most people call me No Goats instead of Jon.
I have an excellent relationship with the track promoters and am well liked and respected by the racers. I'm aware of my image to the younger drivers and try to be a role model for them. I make it a point before the races to walk the pit area and talk to the other participants and their parents.
Professionalism and image have always been a priority for me in both of my businesses and my racing. My driving suit, T-shirts, hat, kart and trailer all have my logo prominently displayed.
Having fun and making friends is my prime concern. Passing this philosophy to the other competitors is a major goal. Racing is merely a bonus.