I was a lifeguard until some blue kid got me fired. And if you believe that …
I grew up in Rock Island, IL, swimming competitively for eight years for the YMCA and Rock Island High School. Then I moved to Peoria, IL to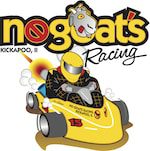 attend Bradley University, majoring both in business management and engine power technology. I worked at Sieg Peoria Co. and several other auto parts stores, gas stations and the Bradley Library to pay my own way through college.
Still being young, I decided to move to California to become rich and famous. That was in the last century (1970's). Needless to say, I had too much fun, never got around to it and don't remember too much about being there. I was working in a motorcycle shop when I decided to come back to Peoria to visit. Still visiting. Now, I'm having too much fun to leave.
In a jam? Call Big Tow!
In 1974 I founded and ran Big Towing Co., Inc. in Peoria for 22 years. At the time of sale, it was the oldest towing company in Peoria. Big Towing Co., Inc. was the first towing company in Peoria to have all of its trucks painted to same color and lettered the same to promote a more positive image to the public. It was the first towing company in Peoria to purchase completely hydraulic tow trucks and eliminate the obsolete mechanical recovery units. It was the first towing company in Peoria to purchase wheel lift towing units and have wheel lifts on its entire fleet of tow trucks for damage-free towing.
Big Towing Co., Inc. was the only towing company in Peoria to purchase completely new and modern tow trucks, averaging about one new truck per year. My company was the only towing company in Peoria to give continuous extensive training to it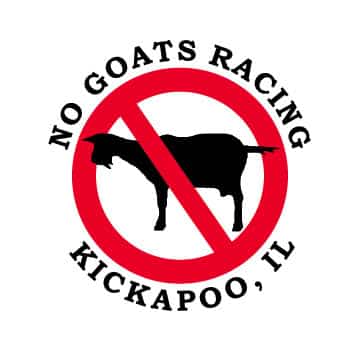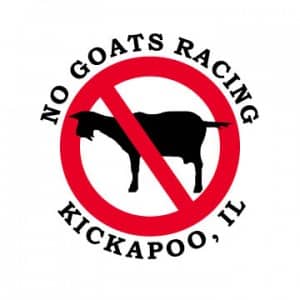 s drivers and was the only one in Peoria to have a driver win a state driving skill contest and have a truck be judged as best in the state. Big Towing Co., Inc. was the only towing company in Peoria to be featured in national trade publications. Big Towing Co., Inc. was the first towing company in Peoria to computerize its office.
Sitting through meetings
For the Professional Towing and Recovery Association of Illinois, I served on the board of directors, chairman of the Long Range Planning Committee, member of the Executive Committee, Legislative Committee, Awards Committee, Convention and Trade Show Committee, Finance Committee and was publisher of the award winning monthly newletter PTROI Beacon. For the Towing and Recovery Association of America, I served on the board of directors and various other committees. I was also on the board of directors of The University of Georgia's Tow Driver Certification Program and helped rewrite their program.
Towing and Recovery Phootnotes
While still running my towing business, I saw a need in the industry for education. The two existing trade publications were showing pictures of pretty tow trucks, doing interviews with big companies, doing recovery stories, and they were doing a good job of it. But they weren't telling you how to afford the pretty trucks. They didn't tell you how to become a big company. They didn't cover the business management end of running a business. So I decided to start my own publication to help educate my competitors. Smart competitors are good for business. They know their expenses and charge more so they can make a profit. Smart competitors force you to be smarter. I spent a year researching everything involving the publishing industry and making a business plan before printing the first issue.
The goal was to convince them that they weren't tow truck drivers who were in business. They were business owners who happened to own tow trucks. Phootnotes focused on business management articles and ways to help towing companies make more money. Another area I focused on was image and how to get their company noticed. As an example, my competitors printed glossy magazines. Phootnotes was printed on newsprint so it would stand out when laying in a pile on the desk (or in the restroom).
I sent 46,000 48-page tabloid-sized newspapers free to every towing company in every state every month for 10 years. Phootnotes was advertiser supported, which allowed the free distribution. It ended up being the largest trade publication in the towing industry. It was doing so well within six months of the first issue, I sold my towing business.
I quit
After 22 years of being on call 24 hours a day towing and 10 years of working 14 hour days publishing, enough was way more than enough. I contacted a business broker who lined me up with Trader Publishing (Truck Trader, Chevy Trader and 300 other publications). I sold my newspaper when I was 53 and took up scuba diving with my wife. She became a Rescue Diver and I became a DiveMaster. We went diving in many different islands in the Caribbean – Bonaire is the best island. We've been there about 15 times.
When we weren't diving, I stayed busy cutting wood and mowing on our property. We heat with wood so that kept me occupied for about five years. Then I started to get antsy to do something more fun than making small wood out of big wood.
Let's go racing
Since I was a little kid I've loved watching car racing on dirt ovals. I always wanted to do that but was incessantly working and had no time for fun hobbies. Finally with the time, the idea sparked in my mind. A friend showed me a video of him kart racing. It looked like a good time and all I'd need was a 7/16-inch wrench instead of heavy duty tools. I jumped right in and bought the whole setup. I started racing go-karts on clay ovals when I was 58 in 2004 and was track champion in 2009 and 2010. In 2012 I finished 2nd in points and in 2014 and 2016 was track champion again. (Ta-Da!)
So that's why I'm the way I am. And now you know.
What's with the No Goats?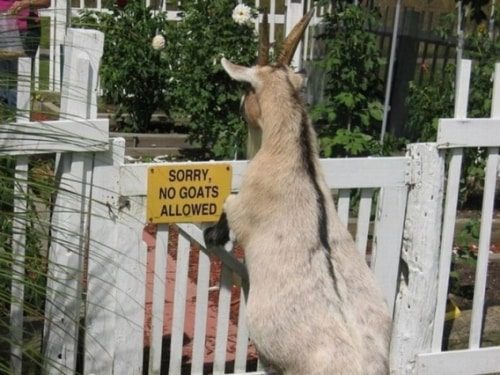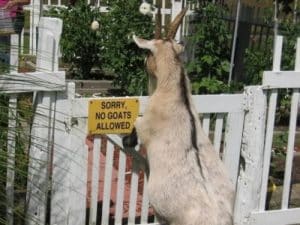 We live on a former goat farm. (Yes, the grass is very green from the fertilizer.) When we bought the place besides being home to 100 goats, there was a sign by the road advertising the goats, goat milk and goat meat. Since we didn't have any of that, a friend suggested we put up a No Goats sign. It's been up since 1991. Well, not the same sign. It seems to be a popular practice with the area kids to have a four-by-four foot No Goats sign in their possession, so we replace it about twice a year. We've had so much fun with the name almost everything we have has No Goats on it.
I was parking my car at a store a while back when a lady walking by asked about the NOGOATS license plate. I told her I didn't have any goats. She said, "Well, I don't either." I replied, "That may be, but I got the plate first."